2022 in Tornadoes – A Look at the "Worst"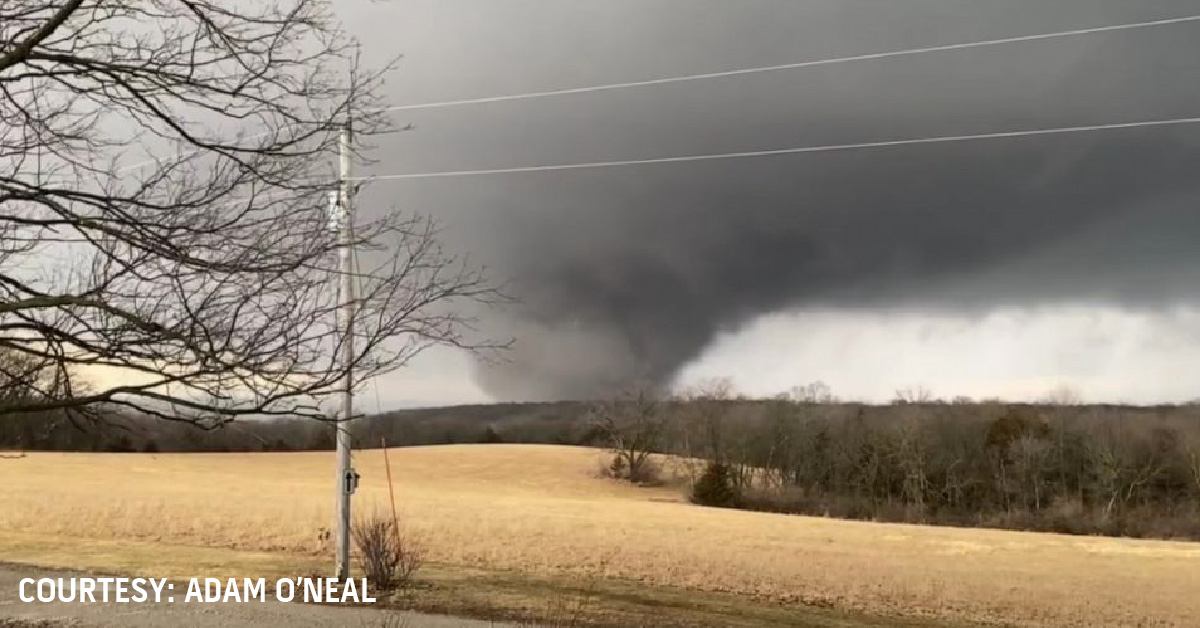 Your past 12 months are likely full of ups and downs. Looking back at 2022, many people will size up the events in their lives and the significant accomplishments or setbacks. The purpose might be to set an intention for the coming year or to figure out what we want to accomplish.
At Survive-A-Storm, we'd like to help if your intention for the year is to be prepared.
As we evaluated the worst tornadoes of 2022, based on damage and casualties, we confirmed our belief that it makes sense to be prepared no matter where you are. Looking at these storms, we know that each could represent the loss of life, major injuries, property loss, business loss, and more. For some, the losses are devastating. Others get lucky with a change of winds. Some families escape with only their lives. So, when a tornado makes contact, it's best to be prepared.

Let's take a moment to look at what we consider the FIVE WORST TORNADOES OF 2022.
Tornado #5: Springdale, Arkansas – March 30
EF3
2 related fatalities, 7 injuries
150 mph winds
Damage: $20 million
Width: 350 yards, Path: 5.2 miles
From March 29-March 31, multiple supercells affected the Midwest, Southern, and Eastern United States. In total, 90 tornadoes were counted in the area over a period of 48 hours and 56 minutes. The costliest was an EF3 tornado that touched down in Springdale, Arkansas, causing $20 million in damage. However, the same group of storms also produced an EF3 tornado that touched down in the Florida panhandle and killed two people.
In Springdale, Arkansas, the tornado caused EF3 damage to an elementary school and a large warehouse building. It resulted in seven injuries. In the afternoon, a squall line began to intensify as it moved across Arkansas, Louisiana, Mississippi, and eventually into Alabama and Florida.
Across these states' central and coastal areas, environmental conditions became more conducive for the squall line to devolve into a series of supercell thunderstorms and a heightened risk of tornadoes. The severe weather shifted to the Florida Panhandle, where an intense supercell developed near Pensacola. This supercell produced multiple tornadoes along its track.
Tornado #4: New Orleans, Louisiana – March 22
EF3
1 fatality, 2 injuries
160 mph winds
Damage: $32.5 million
Width: 320 yards, Path: 11.47 miles
On March 22, a strong tornado touched down and moved through the New Orleans metropolitan area, causing $32.5 million in damages. One person was directly killed, and two were injured. The tornado reached an intensity level on the Enhanced Fujita scale of EF3.
The tornado started in Gretna, LA, and caused some minor damage to traffic lights, and it damaged roofs, windows, and outbuildings. But after crossing the Mississippi river, the tornado intensified to EF2 strength and was broadcast live on television as it passed through. It exhibited horizontal vortices and power flashes. A lot of EF2 damage to homes and buildings, including a school, was reported. As it moved across New Orleans, it picked up strength several times and became a high-end EF3, the strongest tornado ever on record to hit the New Orleans metropolitan area.
Though the tornado hit a major city, the only direct fatality happened in the Gretna area. While this area saw the least damage and, therefore, the lowest level of tornado intensity, the victim was caught out in a vehicle, which carries considerable risk. The driver of the vehicle was killed when the pickup truck was thrown against a tree.
Tornado #3: Andover, Kansas – April 29
EF3
0 fatalities, 3 injuries
264 mph winds
Damage: $41.5 million
Width: 250 yards, Path: 12.65 miles
Who says lightning never strikes the same place twice? Andover, Kansas was the site of the infamous F5 tornado in April 1991 that killed 17 people and injured 300 when the town's only tornado siren failed to sound. During that historic tornado, a news crew captured video while they took cover under a highway overpass. (By the way, never attempt to shelter under an overpass.) Luckily, the town fared much better in 2022, when zero deaths and just three injuries were recorded during the April 29 tornado in Andover. However, the tornado was very costly. It had an intensity of EF3 and did manage to do $41.5 million in damage.
It's important to note that since the first Andover tornado in 1991, the Fujita scale has been enhanced and modified. However, when talking about storms that occurred before this change, we still use the old references. If you're wondering about the differences, you can read more about the differences between the Fujita Scale and the Enhanced Fujita Scale on our blog.
Most of the tornadoes in this storm were weak EF1 tornadoes, but the most powerful tornado of the event was the well-documented and destructive EF3 tornado that touched down in Andover, which is part of the Wichita metropolitan area. The town's warning system did its job this time and saved lives, but the tornado damaged an estimated 331 buildings. This included major structural damage to a newly constructed YMCA branch, tossed vehicles, and the complete destruction of many homes.
Tornado #2: Gaylord, Michigan – May 20
EF3
2 fatalities, 44 injuries
150 mph winds
Damage $50 million
Width: 200 yards, Path: 17.54 miles
From May 18-21, sporadic tornadic activity affected the Great Lakes area through the Mid-Atlantic. In this timeframe, a destructive EF3 tornado with multiple vortices swept through the small town of Gaylord, Michigan, causing two deaths and 44 injuries. This tornado was the first to be rated an EF3 in Michigan since 2012, the first ever recorded in Gaylord, and it caused $50 million in damage.
More than 6,000 people lost power, and it destroyed many homes and businesses, tossed cars across parking lots, and demolished RVs at a dealership. There were two fatalities at a mobile home park where multiple mobile homes were destroyed. Unfortunately, this type of occurrence feeds one of the most common tornado myths:
Tornadoes are "attracted to" mobile homes, or "seek" them out.
The reality is mobile homes are dangerous during a tornado because they are not made to withstand them, and fatalities prompt news coverage.
Tornado #1, The Worst Tornado of 2022: Winterset, Iowa – March 5
EF4
6 fatalities, 5 injuries
170 mph winds
Damage: $220 million
Width: 900 yards, Path 70 miles
The "Winterset supercell" affected multiple states from March 5-7; however, Iowa took the brunt of the damage with an EF4 tornado on March 5. So, whether you are measuring "bad" by how deadly a tornado is or by how costly it is, Winterset, Iowa, is the unfortunate winner.
The tornado in question was extremely violent and destructive, killing six people and doing $220,000,000 in property damage. (The multi-state area is thought to have an estimated $1 billion in damage.)
Many homes were leveled or completely swept away. The tornado was the deadliest of the outbreak and the most intense. From the Winterset supercell, it was the third tornado produced. It first touched down north of Macksburg, IA. As it moved northeast, the tornado rapidly intensified while traversing mainly open farmland and wooded areas. Finally, the tornado began approaching the southern outskirts of Winterset, IA, just south of town. Here, the tornado reached EF4 strength, its point of maximum intensity. As it damaged and destroyed homes, multiple vortices were observed. Some houses were leveled or swept away. In addition, outbuildings were obliterated, cars were flipped and thrown, many large trees were snapped and denuded, and debris was strewn long distances. There were six fatalities in the Winterset area, including a family of four who was tragically killed when the tornado destroyed their home.
Worth Mentioning: Black Creek, Georgia – April 5
EF4
1 fatality, 12 injuries
185 mph winds
Damage estimate unknown
Width 1300 yards, Path 14.5 miles, 15 minutes
Considering the above list, we looked at tornado activity that was both costly and deadly; however, the tornado in Black Creek, Georgia, is worth mentioning as the most powerful tornado. While there were no EF5 tornadoes in the United States in 2022, there were several EF4 level. This tornado was one of them, reaching the highest wind speed of 185 mph.
It was a large, violent wedge tornado that touched down just southwest of Pembroke, GA, on April 5 and quickly strengthened to EF2 intensity as it moved into town. It damaged homes and several public buildings (like the Bryan County Courthouse, the Bryan County Jail, and the Bryan County Planning and Zoning office). The tornado moved on and maintained EF2 intensity as it crossed over a marshy forest area, flattening a swath of trees. After moving north into a subdivision, the tornado rapidly intensified, then grew to its peak width and intensity, that of a mid-range EF4. Several homes were destroyed, a few with just their bare concrete slab foundations remaining. Many other homes and buildings sustained major damage. Supporting the EF4 rating, cars were tossed and damaged, and part of the roof from the public recreation center landed on a house, approximately 500–600 yards away from where it originated. Rescue crews had to pull several people out of the rubble left by the tornado. One fatality occurred, and there were multiple injuries and many close calls.
Looking at 2023 and Making a Plan
The tornadoes of 2022 serve as a reminder of the destructive power of tornadoes and the importance of being prepared. No matter where you are, it is crucial to have a plan in place and to take the necessary precautions to protect yourself and your loved ones. It's also important to stay informed and stay alert during severe weather events, as even a small change in wind direction can mean the difference between life and death.
We never know what Mother Nature will bring. But, at Survive-A-Storm, we are committed to helping people prepare when she brings tornadoes. In 2023, we encourage everyone to make preparedness a priority in their lives.
The leading manufacturer and distributor of prefabricated steel above ground and below ground tornado shelters, and community safe rooms.