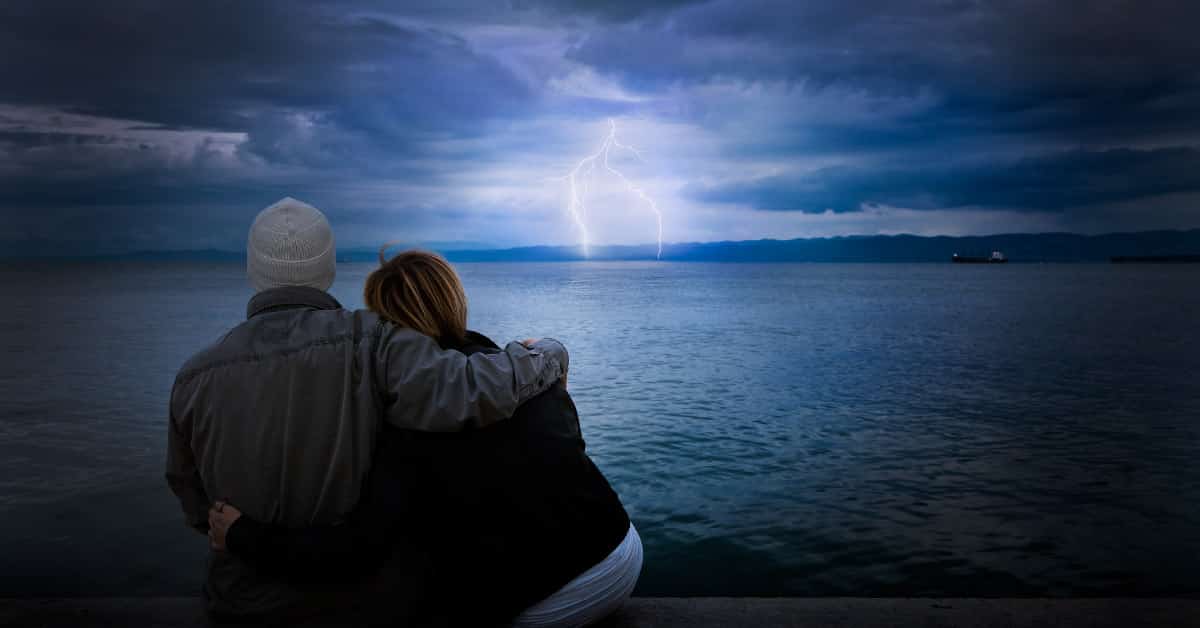 Marie and Neal weren't home the day their lives were forever changed. Their wedding day, May 1, 1999 was only two days before, and although they only had the weekend to celebrate their new union, they both took time off from work on Monday to travel back from their honeymoon weekend in Dallas. As they traveled north late Monday afternoon, they had to pull off of the road several times due to the massive supercell storms that surrounded them. It was around 10 pm when they finally made it to their hometown of Bridge Creek, Oklahoma.
The first of many storms in their new married life:
The town was scattered everywhere. Buildings that had been there since they both were in grade school were wiped off the map. Marie panicked and begged Neal to go by her parents' home to make sure they survived what they could only assume was a tornado. As they rode in anticipation of the worst, Marie wept silently, not knowing if her mom and dad were dead or alive. All Neal could do was hold his wife's hand tightly as they rolled up into the driveway. The power was off and debris was scattered all over the yard, but the house was still intact, or so it seemed. The whole back of the house had been destroyed. As Marie jumped out of the car, she began screaming out for her parents. She was so focused on the task of finding her parents, she did not even look to see if neighbors were around. As Neal was putting the car in park and was getting out to follow Marie, he had gotten stopped by Mr. Blankenship, from next door. Apparently, Marie's parents had been picked up by one of the ambulance drivers who had been called into the area immediately following the F5 tornado that swept through only a couple of hours earlier. Mr. Blankenship assured Marie and Neal that although her parents were quite shaken, they both were okay. As Marie and Neal headed to the hospital, Neal drove by their own place to see if they even had a place to go home to. Somehow, the tornado managed to miss their street altogether. But the devastation throughout the ride to the hospital was overwhelming.
According to researchers, "This violent, long-lived tornado was the most infamous of nearly 60 tornadoes that struck central Oklahoma during an unprecedented outbreak on this Monday afternoon and evening of May 3, 1999. The tornado was the 9th of 14 tornadoes produced by the supercell storm during the tornado outbreak. It formed around 5:26 PM CST about 2 miles south-southwest of Amber, and grew rapidly to monstrous proportions as it headed NE, paralleling I-44. It moved across Bridge Creek and rural parts of northwest Newcastle, causing continuous EF4 and sporadic EF5 damage. The tornado was estimated to be a mile in diameter in this area." There were a total of 36 direct deaths, 583 direct injuries, and the indirect injuries were too numerous to count.Eventually, Marie's parents moved in with the newlyweds as they looked for ways to rebuild their lives, but the impact that the EF5 had on their family was too much. Sadly, the two couples eventually moved from the state that they loved for fear of the next tornado.Fear is no way to live a life, no matter where a person lives. And since the destruction of tornadoes is so devastating, people everywhere have been trying to develop ways of protecting against unexpected storms that plague the nation, and especially but not limited to Tornado Alley. If you have a story or know someone who has their own story to tell, give us a call at 1-888-360-1492. If you live in Tornado Alley, or anywhere there is a threat of tornadoes or other severe storms and wish to protect your family and loved ones, please give us a call or check out our website at www.survive-a-storm.com. Be informed, be prepared.
The leading manufacturer and distributor of prefabricated steel above ground and below ground tornado shelters, and community safe rooms.