Dispelling Myths: The Truth about Tornado Shelters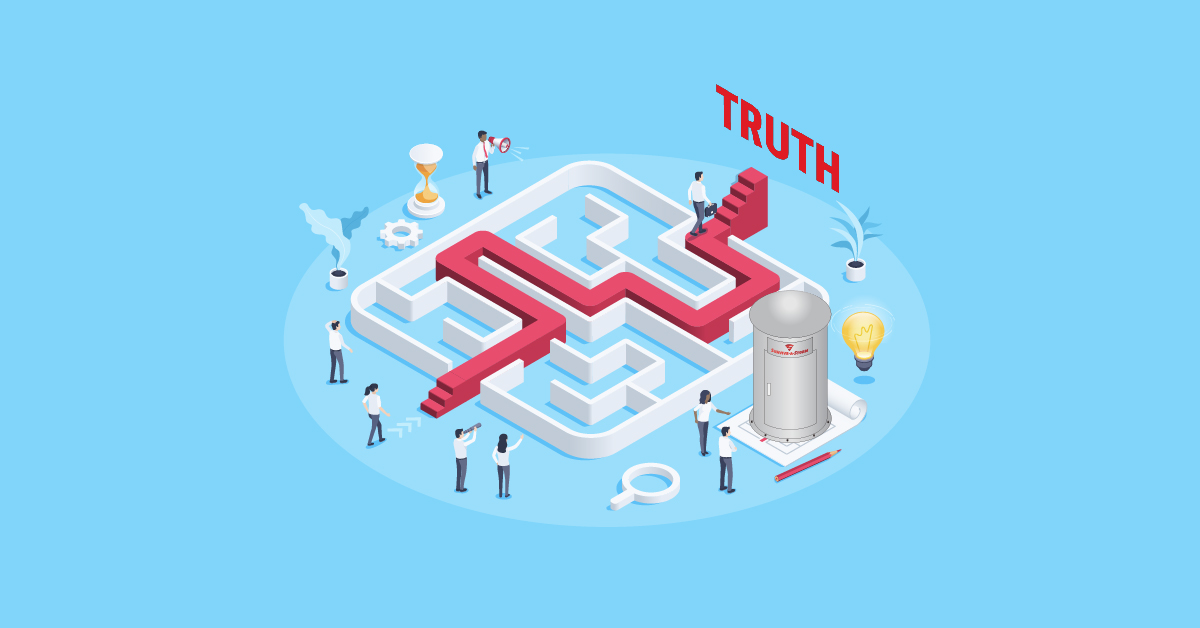 Social media has changed us as a society. Instant opinions are everywhere. It's no surprise that even the most well-intentioned topics face scrutiny from naysayers. Tornado shelters, designed to be safe havens during severe storms, are no exception.
We have many kinds of shelters because there are many, many different environmental concerns in the US. Think about it. The United States is large with many climates, geologies, and soils – it has areas of high elevation with many types of soil, from sandy loam to the hardest clay. There are plains where you can see for miles and miles and there are mountains from the lushest green to rocky and cold. Then there are coastal areas, where the water table is high and flooding is an issue. And, there are even areas where marshy wetlands are practically in our backyards.
What works for one, does not work for all. And the truth is, naysayers are often misinformed and perpetuate tornado misconceptions. Let's look at some of the most common comments that we see from social media.
Concern #1: Above-ground shelters. "Underground is the only safe place to be!"
It's a widely held tornado myth that under the ground is the only safe place to be during a tornado. I'm sure this comes as good news to the folks who live in coastal areas, near wetlands, or other areas prone to flooding. Or, to those with disabilities that prevent them from using stairs or ladders to go underground.
To make our shelters safe (and safe enough to withstand even an EF5 tornado!) we are a producer member of the National Storm Shelter Association, or NSSA, which sets the standards for the industry.
Producer members of the NSSA must adhere to quality standards, which means that shelters must meet the standards of FEMA 320 for home shelters and FEMA 361 for community shelters. This also means standards for design and construction, wind resistance, debris impact protection, and ventilation and airflow. Our testing is third-party so that we can confidently certify that all those standards are met. There are also standards around the installation practices to ensure a shelter's effectiveness. This would include anchoring methods, site preparation, and maintenance guidelines.
All our shelter designs have gone through debris impact testing and wind speed testing at the Texas Tech Wind Institute. Some of the testing our designs go through include:
missile test | The testing agency shoots a 2x4 at shelters at 250 mph.
wind tunnel test | Generates airflow at various speeds and directions to evaluate lift and structural response.
Concern #2: Underground shelters. "If you put that underground shelter in my yard, you'd need scuba gear to use it."
We don't typically get comments about the safety of our underground shelters, since being underground offers the benefit of natural protection against wind and flying debris. However, we do hear from people who can't use this type of shelter due to environmental concerns. And, to be clear, we would never suggest below-ground shelters to those who live in flood-prone areas, or where the water table is high.
In areas like that, there is a variety of above-ground shelters that will meet the quality standards mentioned above. Above-ground tornado shelters are also a benefit to those who have accessibility issues, disabilities, and for those who don't own the property where they live, or live in mobile homes. Many shelters can be relocated and re-installed if/when you move.
Concern #3: "A door that swings out is not a smart choice. When the house collapses and all the debris is laying against the door - how do you get out?"
This concern is heard about equally on our above-ground models with doors that swing out and our underground models that have stairs leading up to a door that flips up. The concern is valid – it's true that debris could block a door that needed to swing out for the occupants to exit. However, that's not something that we didn't already think of.
If this were to happen, there are a few options. The first is a door jack to physically remove the obstruction and push the door open. There are also models of above-ground tornado shelters that have alternate exits or escape hatches that can be opened from the inside. Lastly, there's GPS location tracking, which is available with all of our shelters. (It's even available for those who haven't bought a shelter from us.) Here's how it works:
If a tornado strikes your area, we attempt to contact you to check how you are and if you need assistance. If we are unable to contact you or your emergency contacts, we contact emergency crews with the exact GPS coordinates of your shelter and ask them to check your shelter location and provide assistance.
Concern #4: Air. "What about when all the air runs out in 30 minutes?"
All of our shelters are designed with a variety of air intake and vents, designed to keep air moving and ensure an adequate air supply during sheltering. These vents are strategically designed to prevent debris from entering the shelter while allowing fresh air to circulate inside. The shelters are engineered to balance the need for ventilation with the necessity of maintaining a secure and protected space. In fact, during a storm, some people even choose to use (included) magnetic strips to cover the vents and further prevent debris from entering.
It's important to note that tornadoes are relatively short-lived events, usually lasting only a few minutes. Tornado shelters are designed to provide temporary refuge during these intense moments of severe weather.
After the Storm – Tornado Shelter Performance
The good news about Survive-A-Storm's tornado shelters is that you don't have to take our word for it about their safety. In addition to the extensive testing that we do, our shelters have also come out on the other side of severe weather.
More than once, residents of Moore, Oklahoma have survived the devastation of a tornado. In 2013, an EF5 ravaged the city and in 2016, an EF1. We've told the tale of tornado survival on our blog and professionals with the National Storm Shelter Association have refuted claims that above-ground tornado shelters are unsafe. From their article,
"The National Storm Shelter Association's position is well-supported by research performed by engineer Larry Tanner of the Wind Research Institute at Texas Tech University who was quoted in a May 31, 2013, article by Bryan Dean of The Oklahoman:

"Tanner was among a team of researchers from the institute that toured the damaged areas after the Moore tornado. They examined how different types of structures held up in the storm, with particular attention given to storm shelters ... Tanner said researchers found 16 above ground safe rooms or storm shelters in the damage path or near the damage path of the storm. All survived. `They all performed great,' Tanner said. `We continue to have great success stories both in Joplin and in Oklahoma City.'"
We like to let our customers tell us their tornado stories. From tales of watching as a tornado tore the roof off of a home to the destruction after the event – we've heard it all from customers in Tornado Alley, Dixie Alley and all points between. Being safe from a tornado when destruction is all around is a great feeling.
Because we know that there are many different needs and situations across the country, it is our goal to provide as many safety options as possible. To start planning for your family's tornado safety, contact Survive-A-Storm today.
The leading manufacturer and distributor of prefabricated steel above ground and below ground tornado shelters, and community safe rooms.