Safe Inside Survive-a-Storm Shelter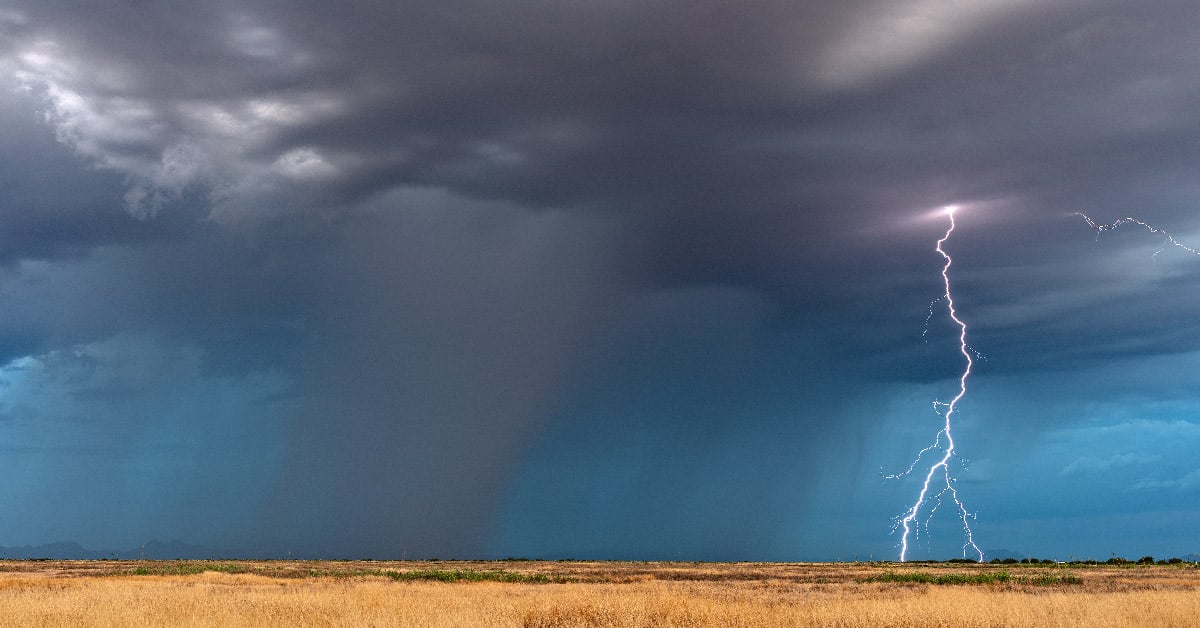 When a tornado touched down in Moore, Okla,. around 6:30 last night, ending this year's unusually slow start to tornado season, one Moore resident and her beloved pets were safe inside their Survive-a-Storm shelter installed just hours before the tornado hit. While sitting there, Safe Inside Survive-A-Storm Shelter Extreme, she couldn't help but be thankful the install team came when they did.Although some weather pros warned that tornadoes might be in the weather picture yesterday, no tornado warning was issued for Moore before the tornado hit last night. The F1 tornado devastated a trailer park near the Tulsa suburb of Sand Springs, left one dead, sent nine to the hospital, and left more than 20,000 residents without power this morning.
Protected by their newly-installed storm shelter, customers find themselves Safe Inside Survive-A-Storm Shelter!
Moore resident Melanie Ross Douvillier and her two dogs weathered the storm -- which damaged buildings, tore off roofs and left debris strewn across roads -- safe inside their Survive-A-Storm shelter installed just three hours before the tornado hit. The process took just two and a half hours and left them safe, dry and grateful for the protection.Here's her story, which she shared on the last night:
"Just had my Survive-A-Storm shelter installed at 3pm today! (Was picked out of the Moore, OK lottery for a free shelter), NEVER thought I would be in it 3 hours later! I live off 19th and Eastern in Moore. My dogs posing in the shelter!"
Melanie's comment prompted this March 26 response from Michelle DePorter, another satisfied Survive-A-Storm Shelters customer who hunkered down in her
ShelterCube Extreme
during last night's storm.
Call Survive-A-Storm to protect your family today
Call Survive-A-Storm Shelters at 888-360-1492 and talk to one of our experts about installing a FEMA-approved above-ground or below-ground shelter that will keep your family safe in a storm. Survive-a-Storm Shelters offers near absolute protection with our full line of above and below-ground shelters. All of our FEMA-compliant Survive-A-Storm Shelters have been tried and tested and are able to withstand winds and debris from any EF5 tornado. And with affordable pricing and the many financing options we have made available to our customers, nearly anyone can afford one. You can find our products inside many of The Home Depot stores in states like Texas, Oklahoma, Arkansas, and Missouri. They even sell our units on their website at www.homedepot.com. So come check us out on the web at www.survive-a-storm.com or call 888-360-1492.
Coverage of last night's tornado in Moore
While Melanie and her pets were safe in their Survive-A-Storm shelter last night, KFOR Chief Meteorologist Mike Morgan and helicopter pilot Jon Welsh provided live coverage of the storm on the evening news, as it moved through Moore."This will be the 'tornado' that breaks the drought for March," Greg Carbin, warning coordination meteorologist for the Storm Prediction Center, said before Wednesday's storms hit. Other twisters formed along a line from southwest of Oklahoma City to the east of Tulsa, and some touched down in the Ozark Mountains of northwestern Arkansas. Before this week, only about two dozen twisters had been recorded so far this year. During the same three-month period in other years, a count of about 120 is typical. The last time the U.S. had no twisters in March was nearly 50 years ago, according to figures from the Storm Prediction Center in Norman, Oklahoma.
The leading manufacturer and distributor of prefabricated steel above ground and below ground tornado shelters, and community safe rooms.