National Preparedness Month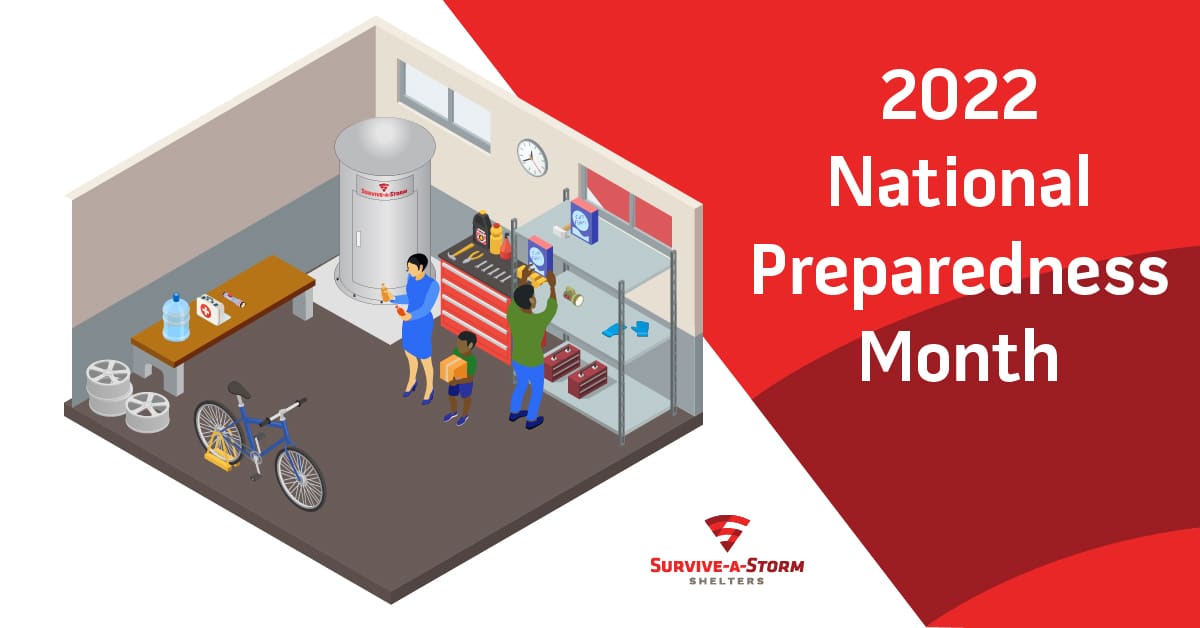 September is
National Preparedness Month
, created by the federal government to encourage Americans to prepare for hazards of all kinds. At Survive-A-Storm, we understand safety and the importance of being prepared.
What's Your Tornado Plan?
Will you be at work or at home? What's your plan?
How will you prepare?
In our personal lives, that might mean making a
family tornado safety plan
and talking about where you will take shelter when a tornado touches down in your area. (Or, it might mean buying a shelter, if nothing suitable is available.)
What about when we are at work? Tornados don't have working hours, and they could be active while you are at work. If you're not a supervisor or business owner, do you know if there's a severe weather plan in place where you work? If you don't know, it's time to bring it up. And if you are the supervisor or business owner, does your team know where to head in the event of a tornado? For businesses, the
Federal Emergency Management Agency (FEMA)
is a great place to find resources outlining how to prepare your business for the unthinkable.
And, if you're in need of a shelter, commercial or residential, Survive-A-Storm can help. We have both underground and above-ground tornado shelters to accommodate any size group. That could mean a
residential tornado shelter
for a small family of 3-4, or a
commercial tornado shelter
to accommodate hundreds of occupants comfortably, plus, everything in between. Tornado shelters can be equipped with optional private bath facilities, including lavatories and toilets. Some companies even opt to house their computer servers and important documents safely inside.
When the 250 mph winds of an EF5 tornado come whipping through, it's good to know you are protected!
Don't wait for the next emergency.
And... Big news!
We'll be announcing a new alert system later in the month, be sure to keep an eye on our blog and social media channels for an official announcement! Follow us on
Facebook,
YouTube
or
LinkedIn
.
Preparedness isn't just about the weather
It's important to note that National Preparedness Month isn't just about severe weather. It's a reminder to prepare for many kinds of emergencies. As safety aficionados, we appreciate the importance of the National Preparedness Month campaign, which started in 2004 and is always observed in September to commemorate the 9/11 tragedy.
At Ready.gov, the official page of
National Preparedness Month
, this year's theme is "A Lasting Legacy." They remind us that the life you've built is worth protecting. No matter the scale of the disaster—personal, community, or nationwide—the individual impact can be devastating.
Here are some ways that you can prepare for disasters of all kinds:
• Learn
lifesaving skills
, like CPR and first aid.
• Set an annual date to check insurance policies for the hazards you might face (flood, earthquakes, tornados).
• Check your smoke alarms and carbon monoxide alarms.
• Consider the costs associated with disasters and try to set aside an emergency fund.
• Learn how to shut off the water main and gas main in your home.
• If you live in a coastal area, decide what your
evacuation plan
is for hurricane season.
• Create a
communication plan
for your family.
Depending on the scale of the event, you never know when first responders may arrive. Do them a favor and be prepared to help your family and neighbors if the time comes!
The leading manufacturer and distributor of prefabricated steel above ground and below ground tornado shelters, and community safe rooms.