Getting a Community Safe Room for Your Organization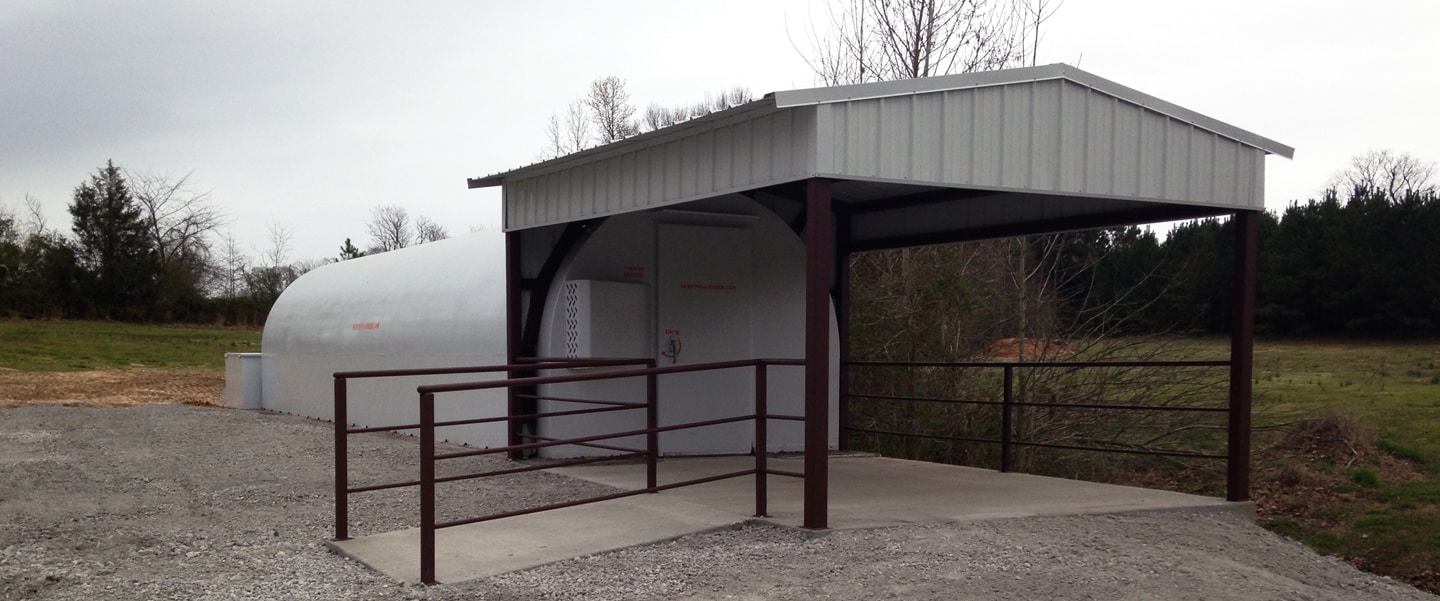 Survive-a-Storm Shelters believes in the value of community safe rooms, especially the models manufactured in our facility.
Let us count the ways:
Survive-A-Storm - Manufacturing Superiority
More steel and concrete in our tornado shelters
Survive-a-Storm Shelters have approximately 10% more steel, 15% more concrete and 385% more rebar than the competition.
Welded construction means safety
Some companies might use only anchor bolts after the shelter is installed to fasten their steel portion to the concrete foundation. But our shelters have anchor bolts AND embed 5/8-inch steel plates that are cast into the concrete. The columns of the safe room are then welded to the embed plates creating a unitized package, or "monolithic structure."
Survive-A-Storm - Multiple Safety Precautions
Peer reviewed certifications
Our shelters are not only engineer certified, but they also undergo a stringent third-party review by another licensed engineer. This "extra set of eyes" provides the customer added assurance that no detail is missed.
Cylinder break test
At the same time that the foundation is being poured, Survive-a-Storm shelters pours concrete into three cylinders. These cylinders are brought to a third-party concrete facility, where "break tests" are performed. The first test happens at 7 days, the second at 14 days, and the last at 28 days after the pour. The test determines how much pressure is needed to break or crack the cement. Our specifications call for 3000psi, meaning the foundation should withstand 3000 pounds of pressure per square inch. If our concrete doesn't pass the test by the 28-day test, we will pull up the foundation and pour a new one. Our concrete has never failed.
Geo-Locator Service:
In the event that your community is affected by a tornado, the Survive-A-Storm Emergency Response Center will reach out to your emergency contacts via the phone numbers that you provide for this purpose. If we are still unable to confirm that you are safe and sound, then we will contact first responders in your community and request that they perform a wellness check to ensure that everyone is all right.
Limited one-year warranty
Survive-A-Storm Shelters issues a one-year warranty for any manufacturer defects in the safe room.
We Stick to the Rules
Survive-a-Storm Shelters puts safety codes and laws first. We will provide engineer and architect documents for permits to satisfy state/county/municipal rules for buildings or manufactured dwellings. A good tip is to research your particular town/county's rules for permitting as part of your community storm shelter shopping. Not all shelter companies pay attention to the rules - some will just sell you a product and let you deal with the rest.
Benefits to Installing a Survive-a-Storm Community Safe Room
Extremely Cost Effective
Why spend millions of dollars for an addition to an existing building, when you can shelter the same number of people for so much less? The average 100-person community shelter costs under $100,000.
Flexible Payment Options
We've linked with a municipal lender, who offers financing to public entities, meaning only 10% of the total cost is paid upfront, while the rest can be paid in annual payments. We're also open to our customers donating portions of their shelter...just speak with one of our community shelter consultants to find the best plan for your community.
Quick turn-around
Once a sales order/contract is signed, production begins. Most community safe rooms will be completely installed within 60 days—none will take longer than 90 days.
Wide Range of Sizes and Options
We can build our community shelters to protect 31 to 300 occupants (according to FEMA 361 and ICC-500 building codes). Community safe rooms are generally built in 8-foot sections. We also are open to new options that customers are interested in. We will do the research and determine if new suggestions will meet FEMA and ICC guidelines.
Survive-a-Storm's Experience and Qualifications
Experience Building Community Safe Rooms
Survive-a-Storm Shelters has manufactured, and installed dozens of turn-key community safe rooms in several states: Georgia, Alabama, Arkansas, Oklahoma, and Ohio. Our customers have included small businesses, large manufacturing facilities, cities, towns, counties, and schools.
Producer Member NSSA
The National Storm Shelter Association, a non-profit organization, has decided that Survive-A-Storm Shelters has met and/or exceeded its requirements for quality and adherence to FEMA 320/361 specifications.
Member of FLASH (Federal Alliance for Safe Homes):
The non-profit Federal Alliance for Safe Homes (FLASH®) is the country's leading consumer advocate for strengthening homes and safeguarding families from natural and man-made disasters. Their Mission: To promote life safety, property protection and resiliency by empowering the community with knowledge and resources for strengthening homes and safeguarding families from natural and man-made disasters.
Interested in a presenting a proposal at your next board meeting or city hall gathering? Give us a call at 888-360-1492, and we'll provide you with all the information you'll need!
The leading manufacturer and distributor of prefabricated steel above ground and below ground tornado shelters, and community safe rooms.