Choosing a Commercial Tornado Shelter for Your Business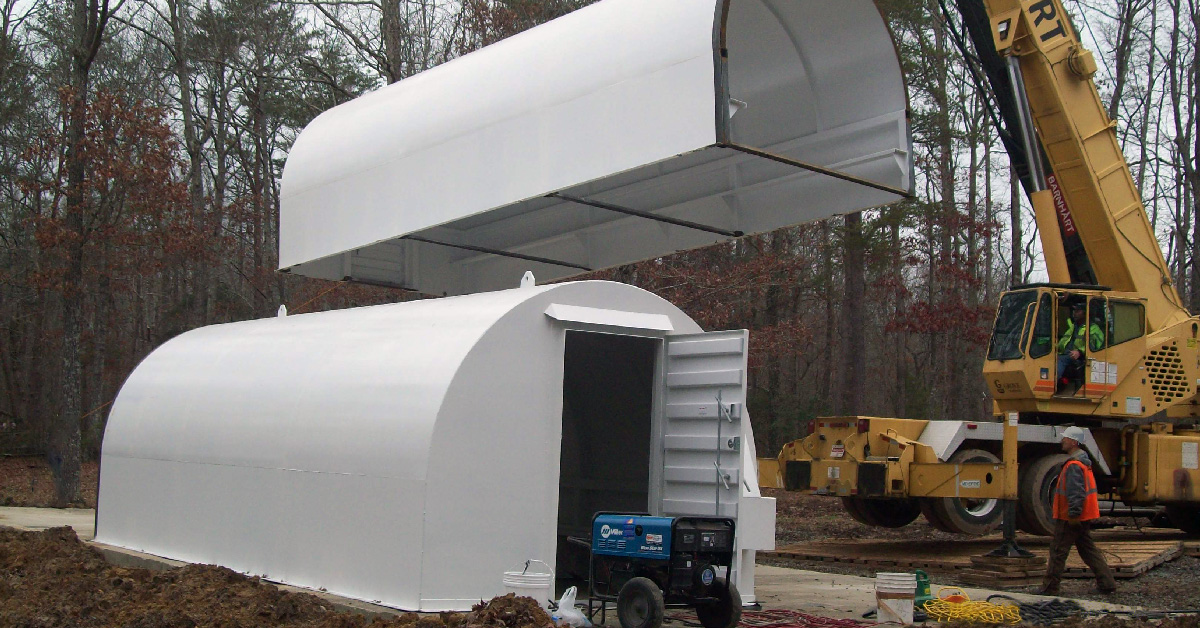 Imagine being at work, all day you've heard the sound of driving rain, the skies are dark and now it's starting to hail. While it's bad weather, you can't just leave work every time the sky looks threatening. You've just heard that the National Weather Service has upgraded your area from a tornado watch to a tornado warning. You know that means "take cover." What do you do?
If you're a business owner, it's important to prioritize the safety and well-being of your employees so that there is never a question of what to do. And, if your location has customers on-site, that is just another reason you need to provide safe shelter from tornadoes.
The best way to give your employees and customers the protection they need is by installing a commercial tornado shelter. Let's look at two different kinds of commercial tornado shelters, and remember that each has its own set of features and benefits.
1. Above-ground Commercial Tornado Shelters
As the name implies, these shelters are installed above ground, typically on a thick concrete slab using heavy-duty expansion anchors and embed plates. They typically have reinforced walls and a sturdy roof to allow them to give the same degree of protection against flying debris as an underground shelter would. In fact, reputable tornado shelter suppliers will build shelters to industry standards developed by the National Storm Shelter Association.
Some above-ground commercial tornado shelters can also be set up to be easily moved and set up in a variety of locations. These are called transitional or mobile shelters, and they are an option for businesses that host festivals and concerts, as well as a full range of mobile workforces such as road crews, foresting teams, and oilfield workers.
Above-ground tornado shelters are a flexible solution that can be used in different locations or for those with limited space. They can also be custom-designed to fit the specific needs of your business and can be installed indoors or outdoors.
2. Underground Commercial Tornado Shelters
Before doing much research, many people think "underground" when they think of tornado shelters - and it certainly is an option. By design, an underground commercial tornado shelter offers excellent protection from high winds and flying debris and can be built to accommodate small or large groups of people, depending on your needs. But, it may not be the best option for many scenarios, so it is not considered as versatile for commercial applications.
Because these shelters are designed to be buried underground and accessed through a hatch or door, maintaining ADA compliance flies out the window. If ADA compliance is important to you (and as a business owner, it should be), then an underground shelter is not the best option.
An underground tornado shelter also requires significant excavation, and may not be appropriate for all areas, like coastal areas or places where a low water table prevents building underground. This type of installation may also be impractical for businesses with limited outdoor space.
What is a Retrofit Tornado Shelter?
Retrofit shelters are designed to be installed in an existing space, such as a basement or a storage room. By this definition, both above-ground and underground shelters that are installed in existing rooms can be considered retrofit, though that will sometimes fall into custom fabrication. Before deciding that this type of shelter is what you need, it's best to talk to those in the business of manufacturing tornado shelters about the particulars of your situation.
Final Decisions on Commercial Tornado Shelters
When choosing a commercial tornado shelter, it's important to consider the size and layout of your business, as well as the needs of your employees and customers. You should also consider the level of protection you need, as well as the cost and installation requirements. There are many questions about commercial tornado shelters that you should find the answers to.
So what is the cost of an above-ground and below-ground commercial storm shelter? The average price in a commercial storm shelter is around $1,500 per occupant.
In addition to investing in a tornado shelter, it's also important to have a plan in place for severe weather. This may include having a designated safe area in your business, a communication plan for employees, and a system for alerting customers and clients in the event of a tornado warning.
Protecting your business and those who work and visit there can help ensure that everyone stays safe during severe weather events. When it comes to selecting a provider for your commercial tornado shelter, it's important to choose a reputable company that produces high-quality products and has excellent customer service.
Survive-A-Storm is a leading provider of commercial and residential tornado shelters and their expert staff can help you come up with a plan for safety. The company offers a wide range of options to meet the needs of businesses of all sizes, and even offers financing.
Contact Survive-A-Storm today to learn more about the commercial tornado shelter options available for your business.
The leading manufacturer and distributor of prefabricated steel above ground and below ground tornado shelters, and community safe rooms.