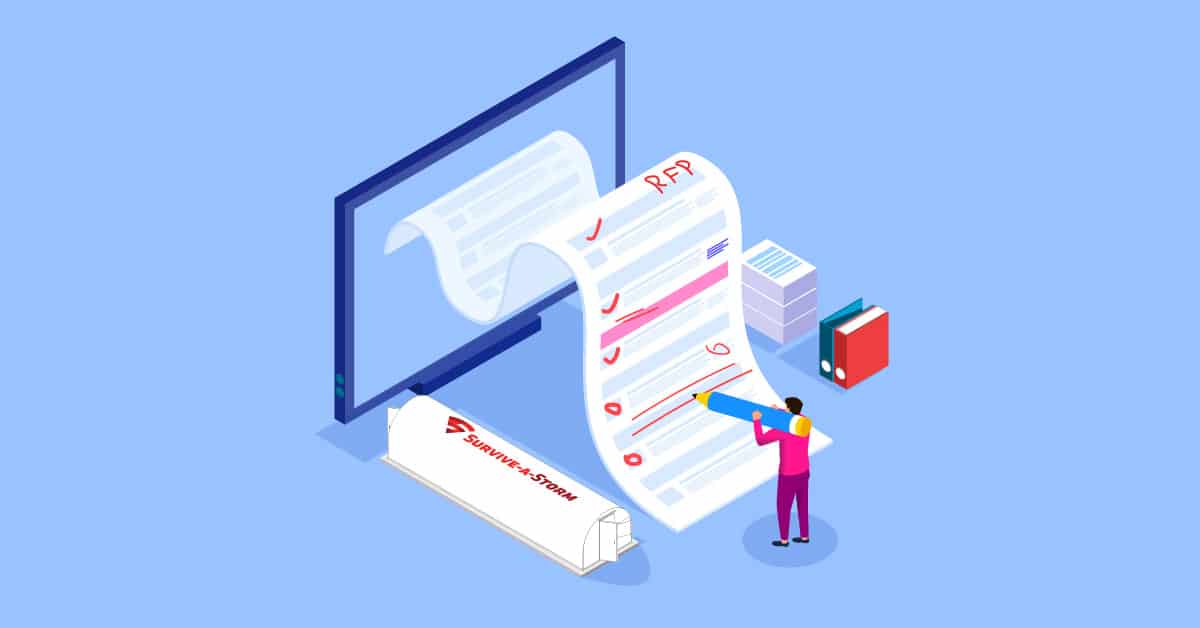 If your company is in the market for a tornado shelter, chances are, you'll want to get multiple quotes and find out what's available before making your purchase.
If you're a small company with few employees, that might be an easy task; in fact, you might not even need a large commercial tornado shelter. In that case, you might simply call around to the suppliers you've found, look at options and sizes, and select one from that list. It might even be a residential tornado shelter.
However, if you are part of a bigger company, looking for a shelter that's a little more substantial, you will want to release a Request For Proposal, or RFP. An RFP will allow you to ask for formal quotes from vendors and ensure that you get an apples-to-apples comparison. In addition, it creates an environment for a variety of vendors to send a proposal for your needs. You can then select the vendor you felt best met your criteria, answered your questions, and communicated well during the process.
If you've never created a Request For Proposal, or just haven't written an RFP specifically for a tornado shelter, this guide is intended to help you create a process that outlines the scope of your project so that vendors understand your facility-specific needs. This process ensures that you receive a tornado shelter on time, on budget, and, most importantly, a shelter that keeps your employees safe!
Keep in mind that many RFP processes can be extremely complicated and detailed, depending on the industry and the product. To accompany this post, we've also provided a Sample RFP from a fictional company, Widgets, Inc. It's important to note that some companies have their own RFP processes and documentation preferences. In that case, you can use our sample RFP as a framework to write what you need.
How to Write an RFP for a Commercial Tornado Shelter:
Below, we've listed the elements that are important to follow, for an effective request for proposal.
1. Introduction to your Company
In a short introduction to your company, vendors need to know what the company does and your company's specific storm shelter needs. How many people do you need to accommodate? Be sure to provide contact information for the RFP process so that clarifying questions may be submitted. You should give a short summary of what your company does onsite, a site map of the location, and the operating procedures that might be relevant to sheltering during storms. You can also include background information about previous severe weather events that affected your company that could be relevant.
2. Background and Tornado Shelter Needs:
This section might include a narrative of the company's history with safety, or an example of how the commercial storm shelter will be utilized. Our sample, which you can download at the end of this post, employs an example of a "close call" the company had with a past storm, which leads to the safety needs, proposed location and tornado shelter capacity that is being sought.
3. Budget for a Commercial Tornado Shelter and Special Terms
What is the scope of your project? What is your budget?
Some companies feel the need to be tight-lipped with budget details, for fear that vendors will top it out, and only make a proposal that is at the most expensive end of the budget. However, in using a request for proposal, you are creating a competitive playing field, where vendors have the incentive to come up with a balance between a great product at a great price. So, while it does let them know how much you can realistically afford to spend, they know that they have to come out with a competitive price.
The RFP process can also save you time in the long run, as some vendors may realize that they can't fulfill your needs within your budget and may choose to no-bid the project. Be prepared to answer a lot of clarifying questions about your needs and details of the project during the RFP. This process is referred to as a Request For Information, or RFI. If may also be helpful to request that companies who choose not to bid on the project let you know the reason they have declined.
You may also have special terms and conditions or other contract language that is used frequently at your company. This would be a possible place to include that.
On the other hand, if you have no idea what kind of money/budget is required to purchase the product you are looking for, you might want to consider a simplified Request For Quotation, or RFQ, and simply state what you need and ask for pricing. (With a clear understanding that your project is not yet funded or budgeted.)
4. Commercial Tornado Shelter Requirements
In this section, you will let vendors know what tornado shelter specifications you have in mind for your project, and the space you have available. It might include the number of occupants, the number of shelters, whether you want an above-ground or underground shelter, and any other criteria that you've determined are necessary, based on your research in talking to vendors.
While doing research for shelters, you will, no doubt, develop a rapport with some vendors. Don't hesitate to lean on their expertise while you write the requirements for your shelter. (In our Sample RFP scenario, we will present an example of the type of requirements a project like this might have, but remember, it is only an example, and your needs may differ.)
Other details may include:
Type of building material
Internal requirements of the shelter, like seating or storage
Type of foundation or installment area
Building requirements or permitting that must be met to qualify for the project.
5. Detail Your RFP Selection Criteria and Timelines.
How will you determine which vendor wins the project? What are the selection criteria and the timelines for your project? You can specify qualifications or certifications that you would like your shelter manufacturer to meet. You can be very specific. This will allow you to quickly remove proposals that don't meet your criteria.
It's best to be very clear about your needs. Let vendors know if you are trying to meet a date for a specific event or season. You can build the end date for RFP submission, the date for final selection, and the start date by working backward based on the date your project needs to be finished.
What's Next? Proofread Your RFP and Go Live.
Before taking the RFP live, the last thing to do is final review. If you have a leadership team or advisory board, this is the time to get their final opinions. (And hopefully, they've weighed in before this final step!)
Mistakes could throw off the project and waste time, cause a delay in start or finish times, or adversely affect the final selection. If you've reviewed your RFP and then reviewed it again, it's time to release it. Send it out by email, post it on your social media channels, and send it off to industry-related agencies, if relevant. This will get you started finding the best provider for your needs.
Getting Assistance on Your Commercial Tornado Shelter RFP
You now have the guidelines you need to release a Request For Proposal to buy a commercial tornado shelter for your business. Remember, your RFP is the basis for one company to provide a service outside of your expertise. In your information gathering, you may find that vendors have a lot of expertise to offer about projects similar to yours. Keep an open mind and use that expertise to write your RFP.
Download a Sample RFP from a fictional company, Widgets, Inc.

The leading manufacturer and distributor of prefabricated steel above ground and below ground tornado shelters, and community safe rooms.