Choosing the Right Storm Shelter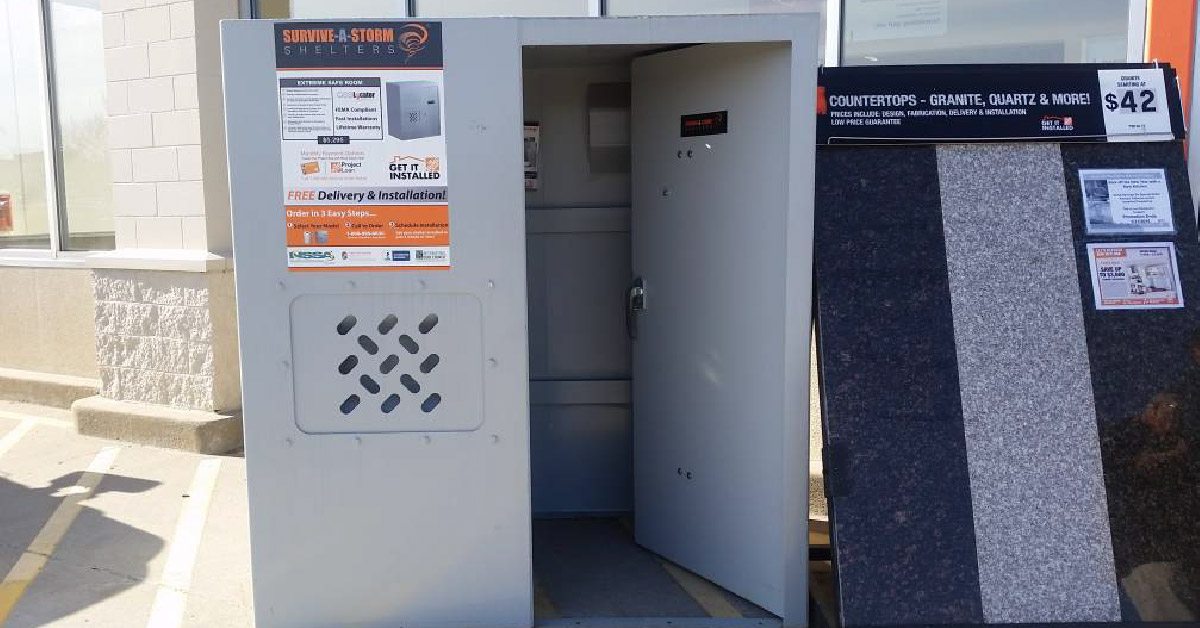 Last Updated: July 28, 2016 There are lots of storm shelters and safe rooms on the market and lots of companies selling them. So how can you be sure you are purchasing a shelter that will keep your family safe in a storm? Who knows how to choose a storm shelter? And how do you know whether you are dealing with a reliable company?Our customers can testify to the quality and reliability of Survive-a-Storm Shelters, and you can read some of their testimonials for yourself.Meanwhile, here are some facts to help you out if you are considering purchasing a safe room or storm shelter. Make sure the storm shelter you are considering -- and the company that will install it -- meet these standards.
How to choose a storm shelter: The Facts about Survive-a-Storm Shelters safe rooms and storm shelters
Follow FEMA 320 and 361 guidelines to ensure near absolute protection in severe wind.
Tested for debris impact through Texas Tech University Wind Science and Engineering Research Center.
Made in the U.S., at our factory in Thomasville, Ga., where we use state of the art equipment to manufacture the steel components and parts that make up our shelters.
Constructed from high quality American made steel.
FEMA compliant triple locking mechanisms.
Engineered by licensed professional engineers.
Storm shelter plans are peer reviewed by independent outside engineers.
Shelters designed to provide "Near Absolute Protection" from an EF5 tornado.
Distributed nationwide by The Home Depot, one of the world's biggest brands.
Limited lifetime warranty on our residential shelters.
Include National GeoLocator Service, which means we will call you after a storm to check on your well being. If we cannot reach you, then we begin calling your listed friends, family members, and neighbors until we obtain confirmation that you are not trapped inside their shelter. If we are unable to confirm this, then we contact local first responders and provide them with the exact location of the shelter so that they can perform a wellness check.
Facts about Survive-a-Storm Shelters
We are the world's leading manufacturer and distributor of prefabricated steel residential tornado safe rooms (aka tornado shelters), community safe rooms, above ground residential storm shelters, and survival bunkers in the world.
We can show anyone in any situation how to choose a storm shelter.
We are committed to providing the highest quality storm shelter products available anywhere on the market.
We have a world-class team of professionals standing by to assist you who work hard every day to make your tornado shelter the safest possible place to be in a tornado or other emergency situation.
Survive-a-Storm Shelters and its parent company, Harbor Enterprises, brings decades of combined experience working under difficult conditions in the United States, Africa, Central and South America, and the Caribbean – to you when we are building and deploying your tornado shelter.
Our employees are committed to providing first-class, outstanding customer service and support. From our welders and fabricators to the owner of our company, our employees do whatever it takes to get the job done.
We are a Producer Member of the National Storm Shelter Association (NSSA).
Contact us for help with how to choose a storm shelter
At Survive-a-Storm Shelters we provide you with the highest quality, most reliable residential storm shelters sold in America. Our full line of above and below ground shelters provide near absolute protection. FEMA-compliant Survive-a-Storm Shelters have been tried and tested and are able to withstand winds and debris from any EF5 tornado.And with affordable pricing and the many financing options we have made available to our customers, nearly anyone can afford one.You can find our products inside many of The Home Depot® stores in states like Alabama, Texas, Oklahoma, Arkansas, and Missouri. They even sell our residential and community safe rooms on their website at www.homedepot.com. So come check us out on the web at www.survive-a-storm.com or call 888-360-1492.
The leading manufacturer and distributor of prefabricated steel above ground and below ground tornado shelters, and community safe rooms.